10 July, 2022
---
24 April, 2022
---
19 March, 2022
---
06 March, 2022
---
26 December, 2021
Sunday Announcements (26 December, 2021)
Rite Aid Pharmacy is conducting a COVID vaccine clinic in our church on January 2, 2022 from 10am to 2pm. The following vaccines are available on the day of the clinic.
1. Pfizer (age 12 and up/ Pfizer booster is currently approved only for age 16 and up)
2. Moderna (age 18 and up)

Please bring the following documents:
ID (Driver's License, State ID or Passport)
Insurance card and Prescription Card
Medicare Card (if above 65 years of Age)
Registration link is already emailed, and it is also available on our website.
---
We received feedback from parents & CCD staff regarding the return of students to In-Person classes for the new year. Given the current situation the majority of the feedback said we should postpone our reopening to March 6th, 2022. Results of the parents survey are posted in the lobby for reference. In the meantime all classes will continue virtually and we ask for sincere cooperation from parents in this regard. Please encourage your children to come on time to class, participate actively and follow through on all required assignments.
---
17 October, 2021
Sunday Announcements (17 October, 2021)
We are continuing the Live stream of 10:30 am English Mass. But we encourage everybody to attend in person to participate fully in the Holy Qurbana.
---
03 October, 2021
Sunday Announcements (03 October, 2021)
We are stopping the telecast of the English Mass from next Sunday Oct. 10 onwards. We encourage children to come with their parents for the English Mass. The Live streaming of the Malayalam Holy Qurbana (on all days) would still continue as usual.
---
20 August, 2021
Diocesan Circular : Prot. No. 83/2021
Letter regarding the Selection of New Parish Council & Council Members, Catechism Classes, Catechetical Sunday, Life Sunday and Priests Retreat during the COVID period.
---
01 August, 2021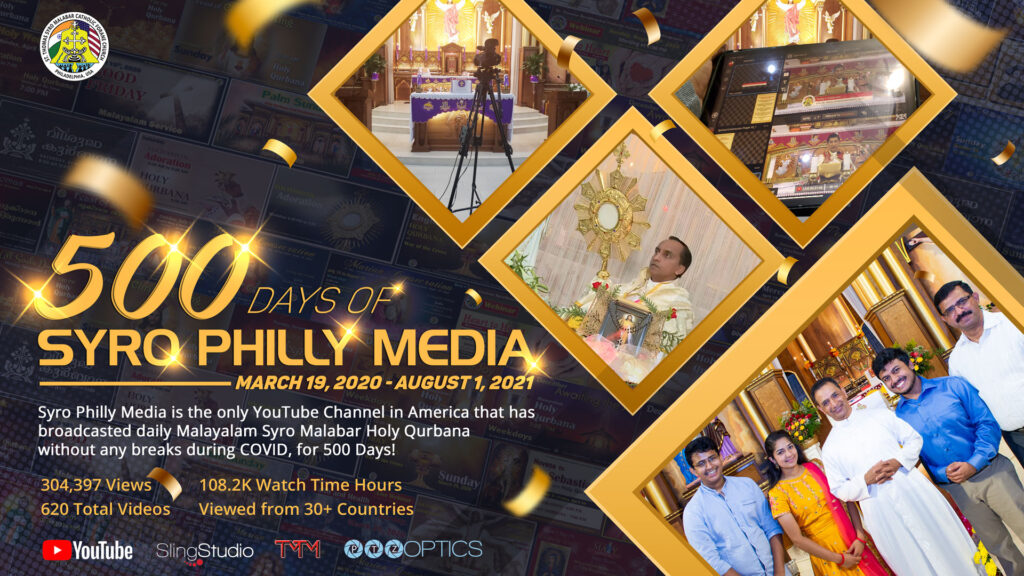 Today marks the 500th Day anniversary of our online Holy Qurbana Live Streaming service (Syro Philly Media) from our Parish. We have Live Streamed the Holy Qurbana without missing a day, for all 500 days, ever since the COVID-19 outbreak.
---
04 July, 2021
Sunday Parish Announcements : 04 July, 2021
To have house visits, from July 13 onwards, Mon – Thu our Holy Mass will be in the morning at 8:30 am, other days timing are as usual. Live Stream will continue with the new schedule.
---
21 June, 2021
Pastoral Letter from the Major Archbishop, Cardinal George Alencherry
Letter regarding this year's Dukrana & Sabhadinam in midst of the COVID pandemic.
Read the Pastoral Letter here (Prot. No. 0671/2021)
---
23 May, 2021
Sunday Parish Announcements : 23 May, 2021
As the pandemic restrictions are released, our parish activities should resume to the normal with adequate precautions
Please consider attending the Sacraments, especially the Sunday Holy Qurbana and Confessions.
Associations, Family Units and ministries may plan for activities in the near future. Early planning will help organize the events.
---
22 March, 2021
There will be a COVID-19 Vaccine drive organized by Rite Aid at our Church this coming Saturday (27 March, 2021) from 11:00 AM.
Numbers are limited. So please use this Form to Register your details for the Vaccine. There will be NO Time-Slot booking in advance. It will be in a First Come First Serve basis.
To Register : Click Here
---
19 March, 2021
Today marks the 1 Year anniversary of our church Live Streaming the Holy Qurbana in our YouTube channel Syro Philly Media. We have Live Streamed the Holy Qurbana for all 365 days, ever since in-person visits were stopped because of the COVID-19 outbreak.
---
14 March, 2021
We will be resuming Sunday Collection during the Holy Qurbana from next Sunday (21 March, 2021) onwards. The hall rental for our community is resumed. Contact the parish office for bookings.
---
30 November, 2020
For health related reasons, we are stopping in-person visits to the Church for the time being. We encourage everyone to participate in the Holy Qurbana via our Live Stream.
---
21 November, 2020
We have started allotting time slots for the Sunday Qurbanas. People who wish to come to church should Sign Up before they arrive.
---
24 August, 2020
Circular from Cardinal George Alencherry : Prot. No. 0989/2020
Our Major Archbishop Cardinal Alencherry issued a letter at the recommendation of the virtual Synod of Bishops, to keep the intention of relief from Covid as a major intention of this year's 'Ettunombu'. So we will be praying for that intention with special focus on each day of the Novena. The Archbishop also directed to observe September 04, Friday as a Day of Fasting towards the same intention. Also he directed the priests to offer Qurbana on September 04 for the same intention of relief from the spreading of Covid-19. The whole SyroMalabar Church will be united on this intention on that day. Following the spirit of this direction we will be doing 12 hour Adoration on Friday, September 11 from 8:00 AM to 8:00 PM, having the Holy Qurbana at 7:00 PM.
---
23 June, 2020
Diocesan Circular : Circular No. 71/2020
Circular from our beloved Bishop Mar Jacob Angadiath on "Covid-19 and Racism"
---
24 May, 2020
Message from the Vicar, Rev. Fr. Vinod Madathiparambil
The reopening plans: If the civil authorities announces reopening sanctions, we will be E-Mailing sign-up forms for the families to attend Church Services to ensure safety of everyone and the reverence to the liturgical celebrations. As for now, the PCC has decided to permit 2 families on Weekdays and 5 families for the Weekend services using sufficient precautions where pews used on one day, won't be used for the next couple of days. ONLY FAMILIES WHO SIGN UP USING THE SIGN UP FORM WILL BE ALLOWED TO ENTER.
---
09 April, 2020
Message from the Trustees
---
08 April, 2020
Message from the Vicar, Rev. Fr. Vinod Madathiparambil
Dear Parents of CCD Children,
Hope all of you are staying safe and healthy amidst this unprecedented time of crisis!
As the Schools are closed and Church services are temporarily canceled, our CCD children are staying home without much outdoor activities, we would like to share some important information for positive and prompt action.
CCD – Action Plan during COVID-19 shutdown time
Our Department of Religious Education is seriously considering and making concrete steps to resume CCD lessons for our children after Easter. As you know it is impossible at this time to offer traditional classroom lessons, so the CCD department is considering virtual classrooms and offer online/distant learning opportunities. Our dedicated team of CCD staff is eagerly waiting to welcome all of our kids back to the virtual lessons.
In the coming days, you will receive email/WhatsApp communications directly from each classroom teacher regarding the detailed planning for their class in offering virtual lessons to the kids. Please alert your children about this and look for this important communication. If you are not receiving this in the next 2 weeks, please contact the classroom teacher of your child. You may need to update your contact information with the teachers to help them deliver the messages and class lessons/instructions.
Our teachers are planning to use age appropriate virtual media/technology for the class lessons. It may be lessons through parents' email group or WhatsApp group or Google Classrooms that you find comfortable and easy. Please work with your teachers and support them in their endeavor to keep the faith of our children alive in these daunting times.
While all around us the nation faces a time of uncertainty, we can be sure that our virtual learning efforts will make results. We may be apart from one another as we shelter from the COVID-19 coronavirus, but we can still share God's love and care in this time as a growing Faith Community. And we're confident that we will emerge with our personal connections strengthened, our lessons fruitful, and our service to the parish community as impactful as ever.
Please take care of yourselves, and each other. We wish each of you the very best for the coming weeks and months and look forward to the time when we can gather again in our parish church.
---
26 March, 2020
Pope Francis' Urbi et Orbi Blessing on Friday Available on TV and Online

Pope Francis' prayer service from the front of St. Peter's Basilica and "Urbi et Orbi" ("to the city of Rome and the world") blessing in response to the coronavirus pandemic will be broadcast live on CatholicTV, both on television and online (www.catholictv.org/watch-live), on Friday, March 27, at 1 p.m. (EST). In addition, it will be shown on tape delay by EWTN-TV, both on television and online (www.ewtn.com/tv/watch-live), on Friday at 3:30 p.m. and 11 p.m (both EST). The square will be empty, but he invited people across the world "to participate spiritually" in this prayer which, he explained, would include readings from the Scripture and adoration of Jesus in the Blessed Sacrament.
"We will listen to the Word of God, we will elevate our prayer, we will adore the Most Blessed Sacrament, with which at the end I will give the Urbi et Orbi Blessing, to which will be annexed the possibility to receive a Plenary Indulgence," said Pope Francis.
---
21 March, 2020
Message from the Vicar, Rev. Fr. Vinod Madathiparambil
Guidelines to the Watch Holy Qurbana Online : Malayalam, English
---
19 March, 2020
We are starting to Live Stream our Holy Qurbana in our newly created YouTube Channel – Syro Philly Media.
You can view our Live Stream at : https://SyroMalabarPhila.org/Live
---
17 March, 2020
Diocesan Circular : Circular No. 68/2020

Message from the Vicar, Rev. Fr. Vinod Madathiparambil
Public Holy Qurbana on all days including Sunday stands suspended until further notice.
---
16 March, 2020
Message from the Vicar, Rev. Fr. Vinod Madathiparambil
Following the direction of our National President to avoid gatherings of more than 10 people at a time, QURBANA AND STATIONS FROM TODAY TO THURSDAY ARE CANCELLED. I will inform you on Thursday or Friday about the arrangements for the weekend, in consultation with the diocesan authorities and according to the directives of the Government.

I will be offering qurbana for your good health and intentions. Please join spiritually and I do request your fervent prayers for the mercy of the Lord on everyone. As a caring community we also stand with and pray for everyone of you serving in Health Care and most risky work situations. Let us trust in God and move forward.

God bless all of you.
---

13 March, 2020
Diocesan Circular : Circular No. 67/2020

Message from the Vicar, Rev. Fr. Vinod Madathiparambil
Dear Parishioners,
The Lord be with you. Given the extraordinary circumstances regarding the spread of COVID-19 the following restrictions, changes and directions are adopted for the safety and good health of every one in our parish and society and in compliance to the directives of the civil and church authorities. We do have a responsibility to do our best part in preventing the spread of the Coronavirus. Please get updated from https://www.cdc.gov/

General Directions
1. Trust in the providence of the Lord, stay calm, build hope, maintain friendliness, provide emotional support and company to everyone in the family.
2. We request your fervent prayers for the recovery of the affected, safety of the health care personnel and civil authorities and staff.
3. We will have Qurbana every day and Stations at the announced timings (but Sunday's timings are rescheduled to 8:30 and 10:30 am)


Cancellations & Reschedulings
4. The CCD classes are cancelled on all Sundays until a further notice.

5. Sunday Qurbana is rescheduled to two Qurbanas – Malayalam 8:30 am and English 10:30 am (as we do during summer).

6. We will not be serving tea/coffee/snacks/nercha or any other food to help people not to congregate, thus to avoid risk of infecting virus, if there is.

7. We have cancelled all streams of our Annual Lenten Retreat scheduled for March 27, 28, & 29.

8. We have also cancelled all Family Unit Prayer meetings, meetings of church associations and organizations until further direction.

9. We have cancelled Adoration of the Blessed Sacrament on Friday morning hours.

10. While in the Church/premises, keep watch of your children and elderly.

11. Please spread out while in the church, avoiding close contacts and potential risk.


Preventive Measures
12. Get updated with the direction from Civil Authorities and follow as responsible citizens.

13. Anyone who has traveled to international destinations / was in a cruise / those visited you from abroad may please consider staying home.

14. Senior citizens and vulnerable people due to health concerns also please stay home.

15. It may be wise not to bring infants and toddlers to Church.

16. If you have planned any events in the upcoming weeks, please plan other alternatives including cancellation/postponement.

17. Help keeping our Church and other facility clean by following best practices, including hand washing, proper trash disposal, etc.

18. Please do not make people panic, do not behave inhuman; everyone – specially the sick, deserves our care, love, prayers and support.

19. Practice social distancing, but not social isolation.

20. Refrain from spreading fake or unverified, messages/information/videos, hateful comments, trolls etc.

21. Spend time in prayer and build stronger family bonds. Be attentive to everyone in the family.
"Fear not, for I am with you,
be not dismayed, for I am your God;
I will strengthen you, I will help you,
I will uphold you with my victorious right hand." – Isaiah 41:10


---

6 March, 2020
Diocesan Circular : Circular No. 66/2020
Quick Links

Prayer Campaign Whatsapp Group
There is a group of volunteers from our parish interceding in the wake of Coronavirus epidemic. Its a whatsapp group. If anyone wishes to pray for this cause they are welcome to join.

https://chat.whatsapp.com/B7dp2XLP9mBFHlmsUxqyXF

Diocesan Circulars

CDC Links
Pope Francis' Prayer to Mary during the Coronavirus Pandemic
O Mary,
you always shine on our path
as a sign of salvation and of hope.
We entrust ourselves to you, Health of the Sick,
who at the cross took part in Jesus' pain, keeping your faith firm.
You, Salvation of the Roman People,
know what we need,
and we are sure you will provide
so that, as in Cana of Galilee,
we may return to joy and to feasting
after this time of trial.
Help us, Mother of Divine Love,
to conform to the will of the Father
and to do as we are told by Jesus,
who has taken upon himself our sufferings
and carried our sorrows
to lead us, through the cross,
to the joy of the resurrection.
Amen.
Under your protection, we seek refuge, Holy Mother of God.
Do not disdain the entreaties of we who are in trial, but deliver us from every danger,
O glorious and blessed Virgin.